Chamber welcomes a new member - NESTE Latvija SIA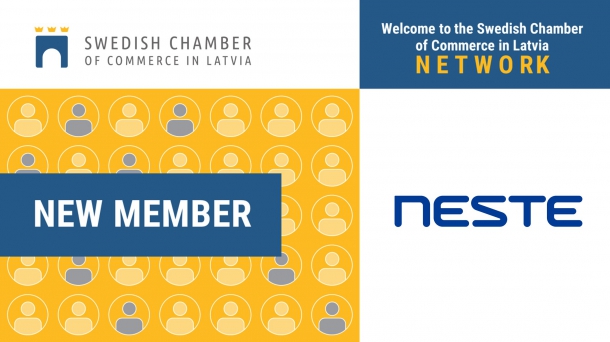 A warm welcome to our new Corporate member in January- NESTE Latvija SIA becoming a part of the Swedish Chamber of Commerce in Latvia (SCCL) business network !
Neste is the world's largest producer of renewable diesel and sustainable aviation fuel refined from waste and residues, introducing renewable solutions also to the polymers and chemicals industries. Neste is also a technologically advanced refiner of high-quality oil products, exploring ways to start using waste plastics as a raw material to produce new plastics and developing chemical recycling to combat the plastic waste challenge. In 2021, Neste placed 4th on the Global 100 list of the most sustainable companies in the world.
Neste's transformation journey has taken the company from a local oil refining company to becoming a global leader in renewable and circular solutions. Neste's purpose - to create a healthier planet for our children - pushes the company forward to search for new ways to reduce the amount of carbon released into the atmosphere, and to innovate circular solutions in order to reuse the carbon over and over again. Neste is committed to supporting its partners to reduce their greenhouse gas emissions by at least 20 million tons annually by 2030.
Read more
Neste Latvija: https://www.neste.lv/lv
---