New Ambassador of Latvia to Sweden | meet Ms Ilze Rūse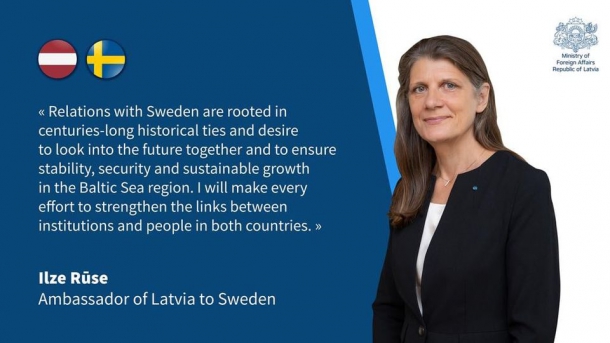 On 17 August 2021, in an official ceremony in Riga Castle, the President of Latvia, Egils Levits, presented credentials to the next Ambassador Extraordinary and Plenipotentiary of Latvia to the Kingdom of Sweden, Ilze Rūse.
Ilze Rūse began her career with the Ministry of Foreign Affairs in September 1996. She has worked at the Embassy of Latvia in Sweden, the Secretariat of the Delegation for negotiations on Latvia's accession to the European Union at the Ministry of Foreign Affairs, and later, at the European Union Coordination Department. In 2009, during the Swedish Presidency of the Council of the EU, Ilze Rūse was seconded to the Ministry of Foreign Affairs of Sweden. In the capacity of Director of the European Department, she took part in the planning for and implementation of the Latvian Presidency of the Council of the EU. Ilze Rūse has been posted as Ambassador of Latvia to the Netherlands, Permanent Representative to the Organisation for the Prohibition of Chemical Weapons, and non-resident Ambassador to Belgium and Luxembourg; she also headed the International Organisations and Human Rights Department.
The Ambassador holds a Bachelor's and Master's degrees in International Relations from Stockholm University, and a PhD degree in Political Science from the University of Salzburg. Currently, she is Professor at the Riga Graduate School of Law. The Ambassador speaks English, German, Swedish and Russian.
Ilze Rūse has received an award from the Government of Latvia for her contribution to promoting Latvia's diplomatic relations.
Ambassador Rūse is succeeding Marģers Krams, who has been representing Latvia's interests in the kingdom of Sweden since 2017.
This year, we mark one hundred years since Sweden recognised Latvia de jure and the 30th anniversary of the restoration of diplomatic relations between the two countries. Sweden was one of the first to recognise Latvia's independence de jure on 5 February 1921 and expressed strong support for a restored independence of Latvia on 28 August 1991.
Source: www.mfa.gov.lv