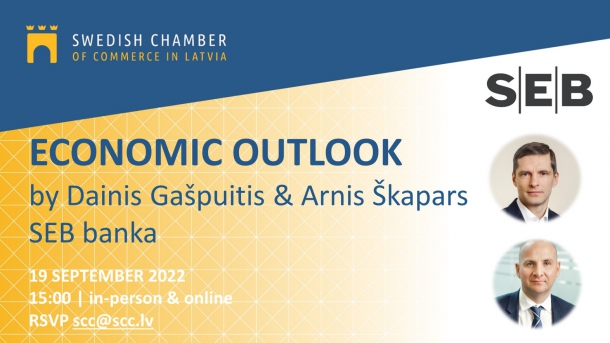 Rapid increases in benchmark interest rates and rising inflation have significantly worsened the outlook for the global economy. Western Europe has been unexpectedly resilient, but the potential for an energy crisis has increased. As a result, this autumn, a consumption-driven slowdown seems inevitable and GDP forecasts have been sharply downgraded, especially for 2023.

* GDP growth in 2023 in the 38 OECD countries will be just 0.9%.
* China's recovery will flatten the world GDP growth curve, which will reach only 2.6% in 2023. In the second half of 2022, GDP in the US and Western Europe will contract and unemployment will rise.

* Labour markets have been very resilient and further increases in unemployment will be relatively limited, reducing the risk of a larger fall in consumption.

The Baltic economies showed strong growth in the first half of the year, which has led to an upward revision of GDP forecasts for this year and a downward revision for 2023. Extreme energy and food inflation will weigh on consumption, so a recession is expected. A stronger recovery is expected in 2024.
WELCOME TO JOIN THE SCCL ORGANIZED ECONOMIC OUTLOOK FALL 2022 in collaboration with SEB banka.
DATE & TIME : Monday, 19 September 2022, 15:00-17:00
VENUE: SSE Riga , Strēlnieku iela 4a, room: 507 (5th floor)
RSVP by email to the Swedish Chamber office scc@scc.lv latest by SEP 16, 17:00. (please state your name, company, and onsite or online attendance).
ADMISSION: SCCL Members – free of charge | Non-member & Guest fee is EUR 25 p/p (both in-person or online)
The Event is followed by networking, refreshments & snacks.
The registered online participants will receive a zoom link on SEP 19 morning.