FICIL Sentiment Index_ 15 Jan 2020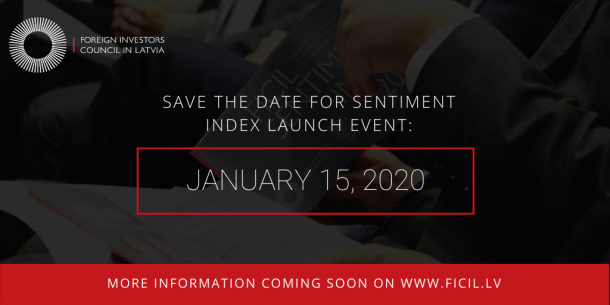 Date: January 15th, at 14:00
Venue: Soros auditorium, Stockholm School of Economics in Riga (Strēlnieku str. 4a)
For the fifth consecutive year, FICIL will present the foreign investors' assessment of the business environment in Latvia, taking a closer look at developments regarding tax system, access to labour and productivity, combating economic and financial crime, quality of higher education and other key factors.
How is Latvia's economic competitiveness viewed by foreign investors?
What progress has been made this year by policymakers and the government?
What are the major concerns of the foreign investors in Latvia?
Is the current legislative framework promoting investment incentives of the existing and potential businesses in Latvia?
FICIL Sentiment Index 2019 report will be presented by Dr. Arnis Sauka, professor and Head of Centre for Sustainable Business at the Stockholm School of Economics in Riga (SSE Riga). Presentation will be followed by a discussion between policy makers and foreign investors, moderated by journalist Jānis Domburs. The report will be published on FICIL website: www.ficil.lv
---
Please check the calendar at www.ficil.lv for upcoming work group meetings. To register for any of the work groups, please follow this link.
If you have any questions or would like more detailed information concerning specific work group planned activities please contact FICIL project director Linda Helmane at ficil@ficil.lv