International conference :The Future of Jobs: 5 trends that will shape Latvia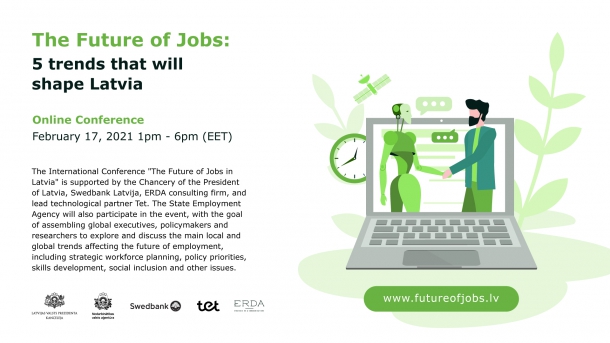 On behalf of the organizers the SCCL shares the information and encourages SCCL Members and collaboration partners to register for the online international conference "The Future of Jobs: 5 trends that will shape Latvia" that will take place on 17 February from 1 p.m till 5.p.m. on https://www.facebook.com/events/613048082829174
The Future of Jobs Conference in Latvia assembles global executives, policymakers and researchers to explore and discuss the main local and global trends affecting the future of employment, including strategic workforce planning, policy priorities, skills development, social inclusion and other issues.
Speakers will include:
Egils Levits, The President of Latvia
Nicolas Schmit, European Commissioner for Jobs and Social Rights
Johannes Kopf, Chair of the European Network of Public Employment Services, Head of the Austrian Public Employment Service
Evita Simsone, Director of the State Employment Agency of Latvia
Ben Pring, Head of Cognizant's Centre of the Future of Work
Isabbele Schlesser, Director of the Luxembourg Employment Agency
Maria Schack Vindum, Director General of the Danish Agency for Labour Market and Recruitment (STAR)
Andris Vilks, Member of The Council of the Bank of Latvia
Jennifer Florido, Head of Talent & Leadership at Swedbank Group
Zane Vārpiņa, Associate Professor of the Stockholm School of Economics Riga
As well as the senior representatives from the World Economic Forum, Organisation for Economic Co-operation and Development (OECD), Ministry of Economic Affairs and Employment of Finland, Stanford University, Google and others.
To take part in the conference as a participant with the option of asking questions and participating in discussions, you must register by February 15, 2021 on the conference website: www.futureofjobs.lv.