Joint Chamber Business Breakfast on Rail Baltica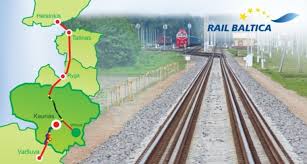 Images of the event:

---
Rail Baltica – Project of the Century
Rail Baltica is a greenfield rail transport infrastructure project with a goal to integrate the Baltic States in the European rail network. The project includes five European Union countries – Poland, Lithuania, Latvia, Estonia and indirectly also Finland. It will connect Helsinki, Tallinn, Pärnu, Riga, Panevežys, Kaunas, Vilnius, Warsaw. The Baltic part of the Rail Baltica project is referred to as the Rail Baltica Global Project.
The largest Baltic-region infrastructure project in the last 100 years
A 10-year construction period
For both passenger and freight traffic
Length: 870 km
Environmentally friendly – powered by electricity, produces less noise and vibration
Max. speed: 240 km/h (passengers), 120 km/h (freight)
More than €5 bn investment in the region
Implemented by Estonia, Latvia, Lithuania
Part of the EU's North Sea Baltic TEN-T corridor
Financed by EU (CEF), Estonia, Latvia, Lithuania
Provides intermodality/multimodality