SOLD OUT ! Joint Chamber Luncheon with the President of the Republic of Latvia, Mr. Levits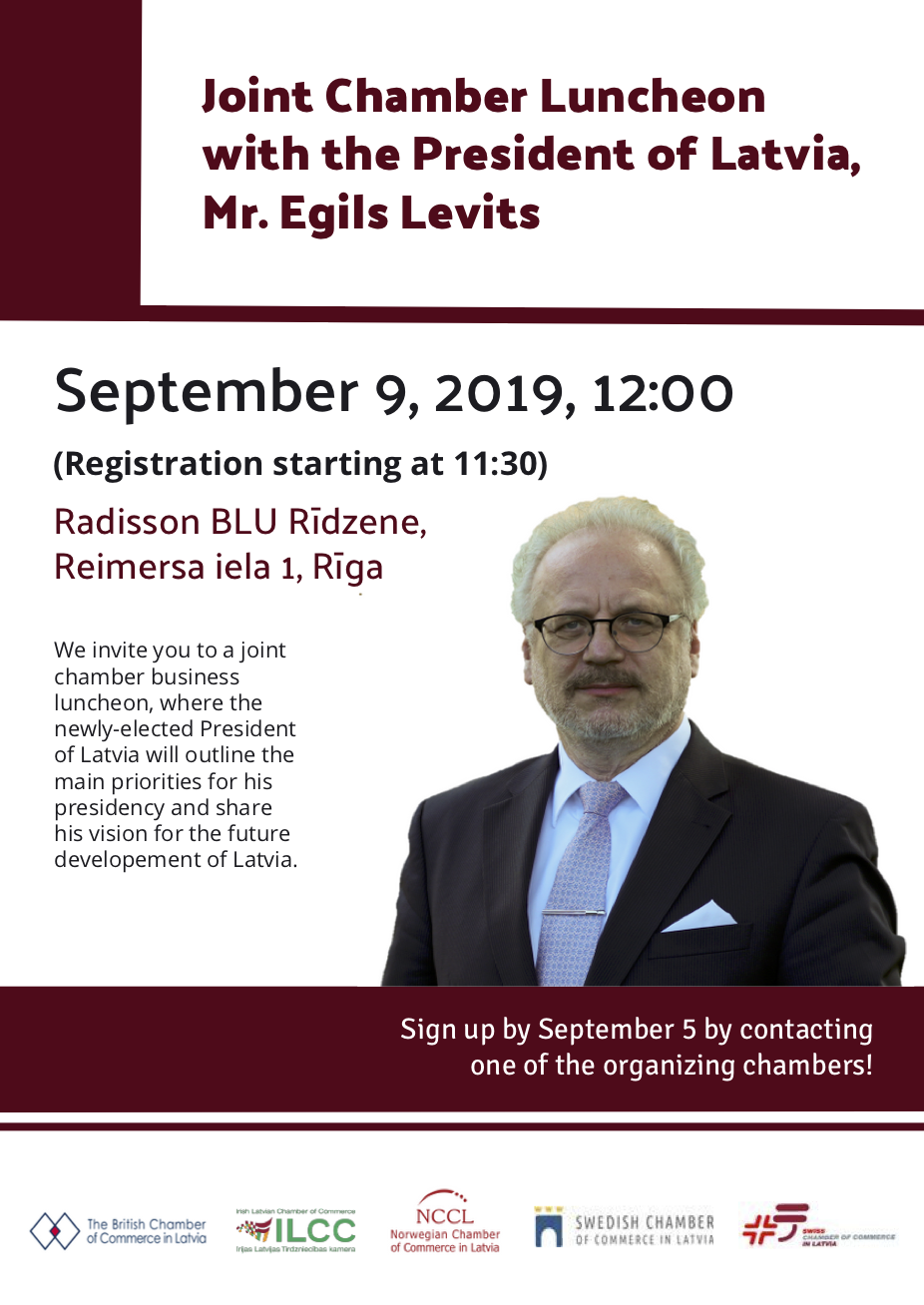 Joint Chamber Business Luncheon with Mr Egils Levits, President of the Republic of Latvia, at 12.00 on 9 September at the Radisson Blu Rīdzene Hotel, Reimersa iela 1, Riga.
During the Luncheon the newly elected President of Latvia will share his vision for the future development of Latvia, as well as outline the main priorities for his presidency among which are:
* Reducing social inequalities;
* The rule of law;
* Sustainability of Latvia in a long term.
The Q&A session will be moderated by Mr Matīss Kukainis, Partner at Spigulis & Kukainis Attorneys at Law.
Agenda:
11:30 – 11:55 Registration & Welcome drink
12:00 – 12:50 Presentation followed by Q&A session
12:55 – 14:00 Lunch
Date & time: Monday, 9 September 2019 at 11:30
Venue: Radisson Blu Rīdzene Hotel, Restorāns "Piramīda", Reimersa iela 1,Riga
Registration & Tickets: Please contact the Swedish Chamber's office by email at scc@scc.lv regarding the purchase of your tickets and registration.
*Please note that due to the limited capacity of the venue, places will be allocated on a first come, first served basis.
*The deadline for registration or cancellation is 12.00 on 5 September. Chambers reserves the right to charge participants who do not cancel their reservation before the set deadline.
---
*By signing up for this event you give your consent for including your contact details in SCCL database and for taking and publishing photos of the event, including participants, on SCCL website, social media and printed materials. Please notify the SCCL office, if you do not want to be photographed.