Latvia in focus | TOURISM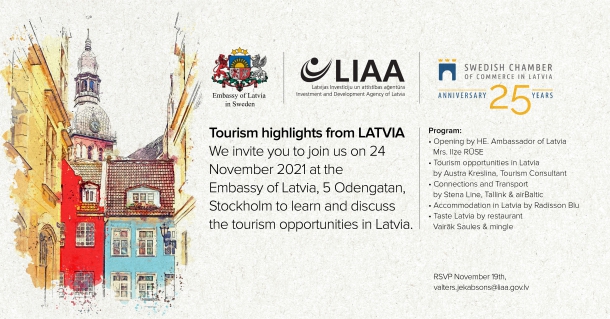 On 24 November in STOCKHOLM the Investment and Develoment Agency of Latvia (LIAA) together with the Embassy of Latvia and the Swedish Chamber of Commerce in Latvia will host a meet up seminar on the tourism opportunities and latest updates from Latvia.
The target audience : Swedish tour operators, tour agents and media representatives and bloggers.
The lineup of speakers representing the industry includes Stena Line, airBaltic, Tallink and Radisson Blu.
If you represent the tourism industry in Sweden and are interested to learn about the tourism opportunities in Latvia , please get in touch with the Chamber at scc@scc.lv or contact the LIAA representative office in Sweden.