Meet the Member & a company visit | LINDSTRÖM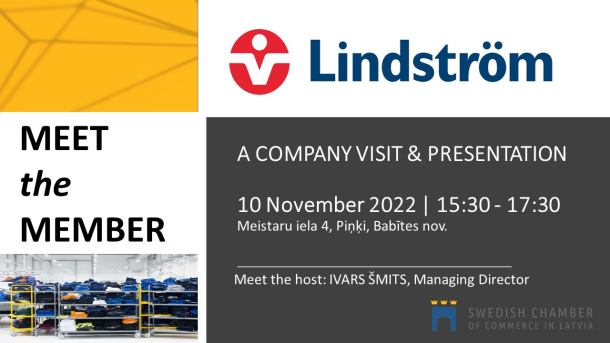 An Afternoon with a Member | LINDSTRÖM
---
A visit to the company's service center site
Introduction to the Lindström story by MD Ivars Šmits
Afternoon buffet & networking.
Date & Time: Thursday, 10 November 2022, 15:30-17:30
Place: Piņķi, Meistaru iela 4
Attendance: Free for SCCL Members & invited guests | non-member fee is 25 EUR
Registration: By email to the SCCL office at scc@scc.lv stating your name & company by latest NOV 8, 17:00.
---
MEMBER BLOG
One of Europe's leading textile service companies with more than 170 years of experience in the textile industry. We offer a wide range of textile rental services ranging from workwear, protective equipment, mats, restaurant and hotel textiles to industrial mats and towels. Lindström has been in Latvia since 1995. Our textile service center is located in Piņķi, from where we organize deliveries to all around Latvia. In 2017 Lindström Prodem workwear manufacturing plant was launched in Tukums, where workwear is produced quickly based on concrete Northern and Central European customer demands.
---