SCCL TENNIS CUP | FALL 2022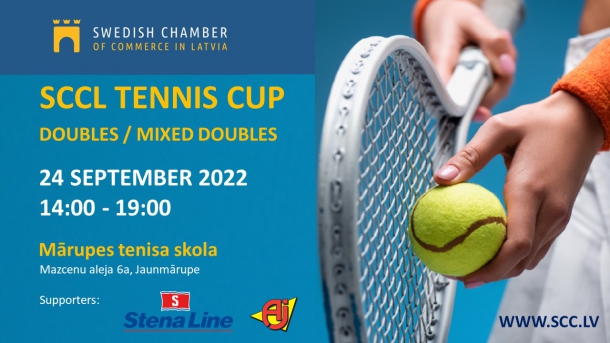 The SCCL announces the SCCL TENNIS CUP | FALL 2022 !
We are happy to bring back sports activities and in-person business networking for members and friends as the nature of this tournament is to meet new people, get acquainted and have a good time playing tennis, which in the end will hopefully result in good business relationships.
You are kindly welcome to participate and play, cheer up for your colleagues and share this INVITATION with your business partners.
Format of the game : DOUBLES / MIXED DOUBLES (depending on the final turn out of registered players).
Date: 24 September 2022
Time: 14:00 - 19:00
Place: Mārupes Tenisa skola, Mazcenu aleja 6a, Jaunmārupe
Participation fee: 25 euro p/p
Registration: by email to the SCCL office at scc@scc.lv
The SCCL TENNIS CUP | FALL 2022 grand sponsors: Stena Line and AJ Produkti
---
We encourage additional sponsors to consider this sponsorship offer!
SPONSORSHIP OPPORTUNITIES
Increase your visibility and exposure in the international community of the SCCL!
Event Sponsorship Package of EUR 500
As a tournament sponsor you will receive maximum exposure with:
Your logo displayed on tournament invite
Public recognition by the Chamber during opening remarks on tournament day
Your brand being mentioned in the Chambers' social media communication
Opportunity to provide banners and/or other promotional material
In-kind Sponsorships are also highly appreciated and welcome!
If you wish to become a sponsor, please contact the SCCL Executive Director at scc@scc.lv