Open House for Bachelor and Masters programmes at Riga Graduate School of Law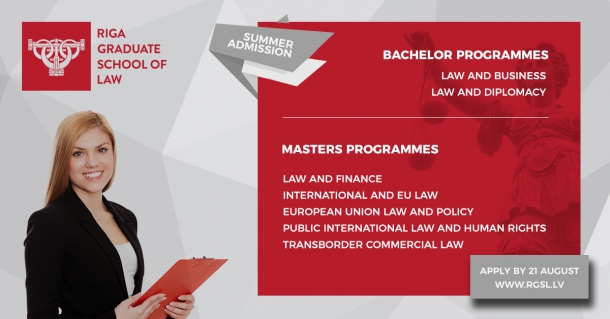 The prestigious RGSL Bachelor and Master programmes in law, business and diplomacy in English is a great platform for your success in the future!
Meet us at RGSL Open House event on 26 July, 18:00 and find out more about studies, the global faculty, life on campus, financial aid and international career opportunities.
Register now to ensure your place: https://goo.gl/forms/WOTeDjN49EIGeAT53
More information on admissions: https://goo.gl/nXFwKf
If you can not make it to the Open House event, you can always contact programme directors directly!
For Masters programmes contact Director of Masters Programmes Waleed Gumaa (in English): +371 26469318; waleed.gumaa@rgsl.edu.lv either Head of Study Department Santa Jastrebova (in Latvian) +371 28351213; santa.jastrebova@rgsl.edu.lv
For Bachelor programmes contact Director of Bachelor Programmes Inese Druviete: +371 20201406; inese.druviete@rgsl.edu.lv
Welcome to RGSL Family! Experience our hospitality, knowledge and a great international spirit in the heart of the Art Nouveau district of Riga!