Wine & dine in March at Radisson Blu Hotel Elizabete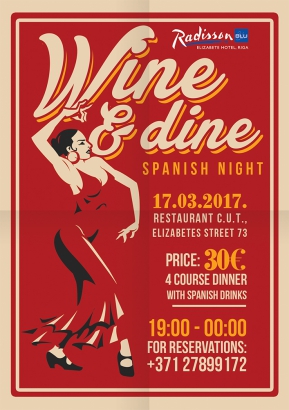 Radisson Blu Elizabete hotel will host another fabulous Wine & Dine Evening, which will kick-off a series of similar events in months to follow. Each one of the events will have a specific theme, paired with the relevant food and drink offering.
This time, on 17th of March, the theme will be Spain. Dinner will consist of a 4 course menu paired with a selection of Spanish wines & cocktails and joining us will be a leading wine expert, who will educate us on the wines. The kitchen team has been refining the menu for weeks, so we are looking forward to a great evening!
The cost per ticket is € 30.00 per person including the drinks. Bookings are essential so please feel free to contact the hotel should you wish to reserve a table. Reservations: Baiba.gailuma@radissonblu.com