BERLITZ: BEZMAKSAS Biznesa Angļu valodas lekcijas tiešsaistē tavā pusdienlaikā.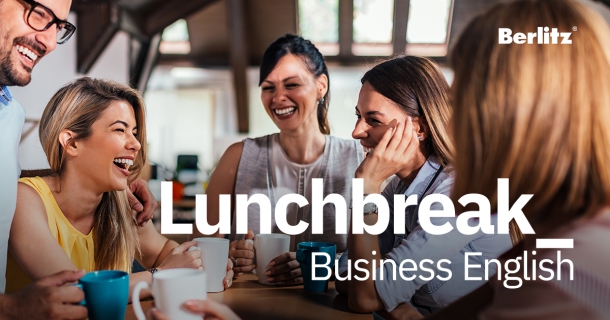 BEZMAKSAS Biznesa Angļu valodas lekcijas tiešsaistē tavā pusdienlaikā.
Vai jums ir grūti pateikt, ko jūs domājat darbā angliski? Vai jūs pavadāt daudz laika rakstot e-pastu, jo neesat drošs, vai tas ko rakstāt ir pareizi?
Komunikācija nekad nav bijusi tik svarīga kā tagad, tāpēc pievienojieties mūsu bezmaksas Biznesa Angļu valodas sesijām tiešsaistē savā pusdienlaikā - pieejams ikvienam!
Berlitz metode pastāv jau 140 gadus, un tā ir palīdzējusi neskaitāmajiem studentiem pareizi komunicēt savā darbā.
Šī ir unikāla iespēja iemācīties kaut ko jaunu vai papildināt savas prasmes ar pieredzējušu Berlitz instruktoru, kurš sniegs padomus un ieteikumus, kā rakstīt un runāt angliski.
Šajā bezmaksas virtuālo sesiju sērijā, Berlitz pasniedzējs iepazīstinās jūs ar noderīgām vadlīnijām, piemēram, kā dalīties ar labām un sliktām ziņām un kā pareizi izskaidrot visus pārpratumus ar savu komandu globālā līmenī.
Noklikšķiniet uz saites, lai pievienotos sesijām pēc jūsu izvēles, noteiktā laikā:
Saite: https://berlitzvirtual.zoom.us/my/berlitzworkshop
ID: 501-204-7307
22. aprīlis 13:00 - 13:45 Tēma: Labu un sliktu ziņu paziņošana
29. aprīlis 13:00 - 13:45 Tēma: Pārpratumu novēršana
6. maijs 13:00 - 13:45 Tēma: Reaģēšana uz sūdzībām
---
FREE Online Business English Lessons during your lunchbreak.
Do you struggle to say what you mean at work in English? Do you spend a long time writing emails because you feel unsure you are saying the right thing?
Communication has never been more important, so join our free online Lunchbreak Business English Sessions – open to everyone!
The Berlitz Method has been around for 140 years and has helped countless students get their message across at work.
This is a unique opportunity to learn something new or brush up your skills with an experienced Berlitz instructor who will walk you through some tips and tricks for writing and speaking in English.
In this free series of virtual sessions, a Berlitz instructor will go through helpful guidelines to communicate good and bad news and how to clear up any misunderstandings with your global team.
Simply click on the link to join at the appointed time, choose from three sessions:
Link: https://berlitzvirtual.zoom.us/my/berlitzworkshops
ID: 501-204-7307
22nd April 13:00 – 13:45 Topic: Communicating good and bad news
29th April 13:00 – 13:45 Topic: Clearing up misunderstandings
6th May 13:00 – 13:45 Topic: Responding to complaints