BluOr Bank launches public offering of bonds worth EUR 7 million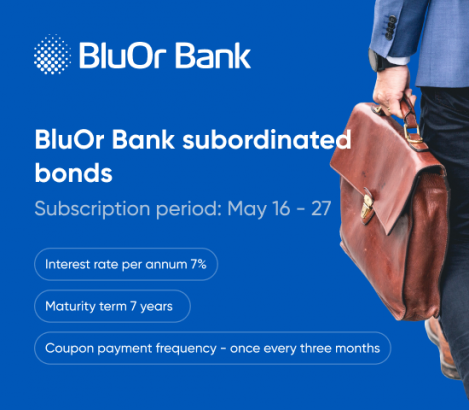 On May 10, 2022, the Latvian Financial and Capital Market Commission approved the basic prospectus of BluOr Bank AS unsecured subordinated bonds programme. The total amount of the bank's subordinated bonds programme at face value is up to EUR 15 million.
BluOr Bank commences the initial public offering of unsecured subordinated bonds of the first tranche to investors in Latvia, Estonia and Lithuania. The offering period will last from May 16, 2022 – 10:00 AM to May 27, 2022 – 15:30 PM. BluOr Bank plans to issue the first tranche of 7-year unsecured subordinated bonds worth up to EUR 7 million.
The nominal value of each bond is EUR 1,000 and the interest rate is 7% per annum. The bonds will mature in 7 years. Interest payments on bonds will be made once every three months.
The bonds will be publicly offered to investors in Latvia, Estonia and Lithuania. Also, institutional and private investors from individually selected member states of the European Economic Area will be able to participate in the offering in accordance with the Base Prospectus. The bonds are planned to be listed on the Baltic Bond List of NASDAQ Riga. Immediately after the start of trading on Nasdaq Riga subordinated bonds will be free to buy and sell on the regulated market.
The funds obtained from the bond issue will be used to strengthen the bank's capital, which, in turn, will allow for more successful development of the bank's services – promote lending, attract deposits and strengthen market positions, contributing to the growth of the national economy and empowering local businesses.
READ MORE HERE