Satori Alfa SIA - Member to Member OFFER | IMU-19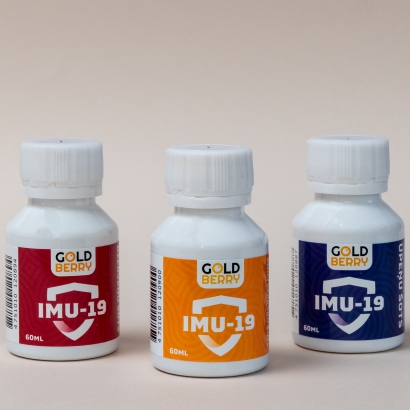 Satori Alfa SIA - Member to Member OFFER
Daudziem Latvijā strādājošiem uzņēmumiem ir nepārtraukts darba ritms, nav iespējas distancēties, strādāt attālināti šajos sarežģītajos Covid 19 apstākļos..
SIA Viridi Productum kopā ar SIA Satori Alfa , kurai ir 20 gadu pieredze augstvērtīgu produktu ražošanā radījuši uz zinātniskiem pētījumiem balstītus pārtikas produktus, kas veicina individuālās imunitātes veidošanu, dabīgu enerģijas atbrīvošanu šūnās, depresijas un trauksmes izskaušanu u.c. skatīt pielikumos produktu aprakstus un šādu produktu nepieciešamību mūsu organismam. Produkti ir 100% dabīgi.
Produkti ir 3 veidi, kastē iepakoti 24 gab. 1gab cena -1,26 EUR ar PVN, Kasti iespējams izveidot pēc Jūsu ieskatiem. Kastes cena- 24x 1,26 EUR = 30,24 EUR.
Kameras biedriem būs pastāvīga atlaide: maksā par 19, bet saņem 24 gab = 23,94 EUR ar PVN. ( t.i. 0,99 EUR ar PVN par 1 gab)
Ir iespējams produktu pasūtīt degustācijai, nosūtīsim produktu prezentāciju Rakstiet mums satorialfa@inbox.lv , vai zvaniet 28677677 no 13.00 – 16.00. Piegāde Rīgas robežās bez maksas.
www.goldberry.lv
---
Satori Alfa SIA - Member to Member OFFER

Many companies working in Latvia have a continuous work rhythm without the opportunities of distancing themselves in these difficult Covid 19-induced conditions.

SIA Viridi Productum together with SIA Satori Alfa, which has 20 years of experience in the production of high-quality products, have teamed up to develop scientifically-backed food supplements that enhance immunity, promote natural energy release in cells, mitigation of depression and anxiety, among other features. All of the products are 100% natural.

There are 3 types of products, 24 pieces packed in a box. 1pc price -1.26 EUR with VAT, The box can be created at your discretion. Price of the box - 24x 1.26 EUR = 30.24 EUR.

Chamber members are entitled for a permanent discount: pay for 19, but receive 24 pieces = 23.94 EUR with VAT. (i.e. 0.99 EUR with VAT per 1 piece)

It is possible to order the product for tasting and obtain more information. Contact us satorialfa@inbox.lv, or call +371 28677677 from 13.00 - 16.00. Free delivery in Riga.

---
Explanatory description of " IMU-19 "
Our products consist of 3 ingredients: berry pulp, organic juice of turmeric (Curcuma longa) and black pepper.
In Ayurveda, turmeric is known as a drug without side effects. The berries were selected based on the greatest positive effect on the human immune system. Sea buckthorn berries boost ouruniversal immunity (overall immunity through all our systems), swamp cranberries support kidney, liver and urinary tract health, berries of blackcurrant boost lung and respiratory health.
Scientific research shows that curcumin, the active substance in turmeric, is difficult to absorb in our body, however, it can be activated by piperine, the active substance in black pepper. This is called cumulative action. The exposure to these products is many times higher than the sum ofseparate products. It has been proven that curcumin together with piperineincreases the activity of curcumin in humans by 2000%.
People become aware of the effectsalmost immediately: first, there is a pleasant burning sensation in the throat and a feeling of warmth starts in the stomach within a few minutes. This means that the products are rapidly absorbed in the gastrointestinal tract and are passed through the organism, entering all organs and systems, and starting to function. The activity of these products is based on 3 whales or 3 operating principles:
Rapid absorption of products in the body and penetration into all organs and systems.
Which, in turn, leads to accelerated metabolism in cells, destroying a variety of infectious foci (bacteria, viruses, fungi, protozoa, etc.) that have invaded the body and are preventing physiological processes from taking place in cells. The activity of our body cells is restored to a natural healthy rhythm.
Restoring the functioning of cells to a natural healthy rhythm leads to organ and system recovery, and people experience it as health recovery and disappearance of disease symptoms.
Let us now look at health benefits described in numerous scientific studies:
Anticancer:Turmeric can help prevent prostate, lung, stomach, skin, and blood cancers, stop the growth of cancer cells. The use of turmeric in food facilitates the discharge of toxic substances resulting from chemotherapy procedures.
Anti-depressive: Accelerated metabolismgenerates energy from cells. As a result, we start to think faster, experience ease of perception, become less irritable, less aggressive, stop suffering from rapid mood changes and decreased muscle weakness, nausea. It happens in a natural way, contrary to the effects of caffeine or other psychostimulants that borrow energy from the future and cause addiction.
Arthritis: The anti-inflammatory properties of turmeric are ideal for the treatment of both osteoarthritis and rheumatoid arthritis. In addition, the antioxidative properties of turmeric destroy free radicals, that are responsible for damaging body cells.
Prevention of ischaemic heart disease: turmeric slows down accelerated cardiac function, reduces blood pressure, cleans blood vessels, and ensures a reduction in the risk of ischaemic heart disease.
Diabetes treatment: An important advantage is the effectiveness of turmeric in lowering insulin resistance, which can prevent the development of Type 2 diabetes. Lowering cholesterol: Studies have shown that the use of turmeric can reduce blood cholesterol levels.
Strengthening the immune system:Turmeric contains a substance known as lipopolysaccharide, which helps to stimulate the body's immune system. Its antibacterial, antiviral, and antifungal properties help to strengthen the immune system.
Prevention of Alzheimer's:brain damage, one of the main cognitive disorders, such as Alzheimer's disease. Turmeric maintains the overall state of brain health, helping to remove blood clogs in the brain and improve oxygen flow. It can also prevent or stem the progression of Alzheimer's disease.
Improves digestion and prevents intestinal diseases:Many of the main components of turmeric stimulate biliary formation in the gall bladder, which helps to improve digestion and reduce symptoms of abdominal bloating and gas formation. Moreover, turmeric helps to treat most forms of inflammatory diseases in the gut, including non-specific ulcerative colitis.
Prevention and recovery of liver diseases:Turmeric is a natural type of liver detoxicant. The liver purifies blood by producing enzymes, and turmeric increases the production of these life-important enzymes. These life-important enzymes reduce toxins in the body. Turmeric also helps to improve the bloodstream. All these factors maintain the quality of liver health.
Body alkalizer:Turmeric acts as a body alkaliser. Alkaline environment restores health and prevents the body from aging, rejuvenating it by 15 to 20 years.
Scientists also point to a variety of other health improving benefits: turmeric can slow down cataract formation, contribute to the treatment of hard to heal wounds, slow down development of glaucoma, reduce high blood pressure, decrease appetite, and thus preventexcessive weight, reduce sleep disorders, alleviate kidney and thyroid problems.
The usual recommended daily dose is 60-180 ml a day at least an hour before food intake for 5 days without interruption, then take a break of 1-2 days, then take it again for 5 days. It takes time for the body to start feeling the new natural sensation (lightness, energy, agility, the natural feeling of youth and healthiness). You will want more and more of this product.
Information collected by doctor M.Selga