TGS Baltic WEBINAR | Merger control in Baltics: Recent developments and lessons for your transaction strategy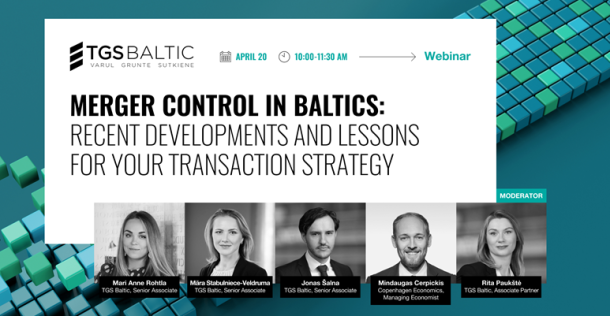 TGS Baltic, together with experts from Copenhagen Economics, is organizing an online webinar on Merger Control in the Baltics: Recent Developments and Lessons for Your Transaction Strategy. As a valued member of our professional network, we believe this event will be of great interest to you and we hope that you can join us for this important discussion.
In the webinar, we will:
Cover the application of merger control rules to asset deals and joint ventures and the main risks associated with such transactions from a competition law perspective;
Share experience on how Lithuanian, Latvian, and Estonian competition authorities approach similar transactions, and
Discuss the economic and data side of the merger control procedure and practical lessons to ensure smooth preparation and effective communication with the competition authorities.
Join us to learn about merger economics and how to prepare for a merger control procedure on April 20 at 10:00 AM (EEST)
Participation is free of charge, but registration is required HERE