Deep Tech Atelier (DTA) & Nordic Optics and Photonics Conference (NOP-2023)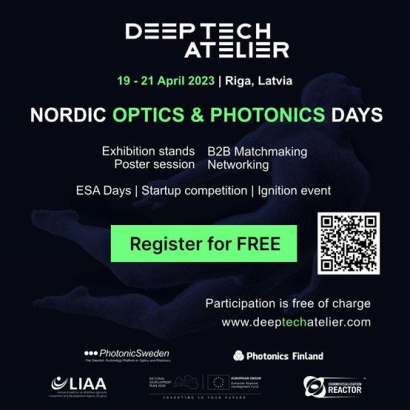 Investment and Development Agency of Latvia (LIAA) www.liaa.gov.lv/en together with PhotonicSweden www.photonicsweden.org is organizing a thematic B2B matchmaking event within the Nordic Optics and Photonics Conference (NOP2023) that will be held on 19-21 April in Riga, Latvia. The main goal is to bring the Latvian and Nordic photonics and electronics companies together to look for cooperation possibilities.
Latvia has put the photonics and electronics sectors very high on the priority list and has several state supported programs to offer for developing your company in Latvia. There are also a number of high-quality companies that are willing to strengthen their cooperation with their Nordic counterparts in fields of R&D, supplies and synergies to reach even wider opportunities.

Download flyer with Latvian companies: www.photonicsweden.org/wp-content/uploads/Investment-and-Development-Agency-of-Latvia-at-NOP-2023-in-Riga-v1.pdf
Registration weblink: https://next.brella.io/join/deeptechatelier2023/tickets
For more information, please visit https://deeptechatelier.com/