Kräftskiva – Swedish Crayfish Party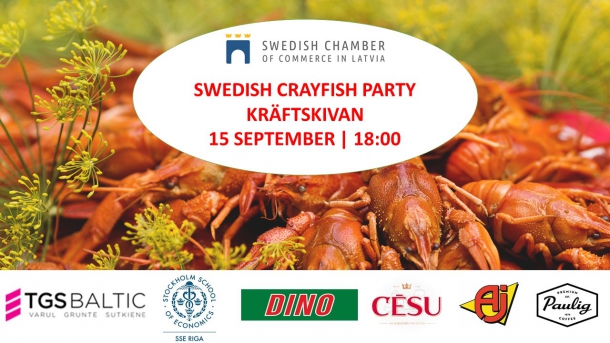 The kräftskiva, or crayfish party, is a beloved end-of summer tradition in Sweden. But what is so special about it? Historically, crayfish could only be hunted for a limited amount of weeks due to overfishing, and then were only eaten by the Swedish aristocracy. When the crayfish populations rebounded, however, this once-exclusive delicacy was available to the masses and has been a scrumptious excuse for end-of-summer parties ever since.
A kräftskiva features heaps of crayfish brined with dill (of course), as well as sides like bread, cheese and – you guessed it – aquavit. If you've ever attended a Kräftskiva at the American Swedish Institute, you'll know that this party, much like Midsommar, is steeped in tradition. Guests typically wear hats and bibs (yes, bibs!) and sing drinking songs such as "Helan Går." Decorations like paper lanterns and paper crayfish adorn tables, and there are candles and string lights for when the party inevitably flows into the night.
The first Wednesday in August is traditionally recognized as the kräftpremiär – or start of the crayfish season, but crayfish parties are held throughout the month and even into September. Most crayfish eaten nowadays are imported, and even though they can be found in grocery stores all year round, the end of summer is the designated time to hold a kräftskiva.
---
Join us to celebrate the CRAYFISH PARTY with the Swedish Chamber of Commerce in Latvia on 15 September in Riga at 18:00 & book your seat via SCCL office , scc@scc.lv until SEP 13. Detailed info HERE