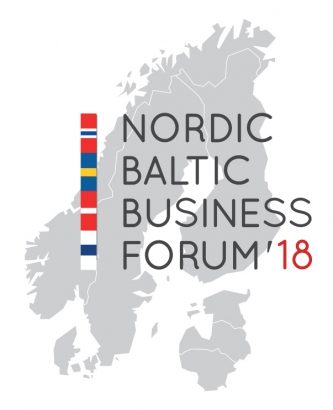 The 5th Nordic Baltic Business Forum to focus on increasing Latvia's competitiveness.
On 4 October 2018, the 5th Nordic Baltic Business Forum will take place at Spīķeru koncertzāle, in Riga, featuring multiple prominent speakers on topics of innovation, cooperation and growth. The event will bring together more than 100 Nordic business managers, diplomats, local entrepreneurs, and representatives from the public and private sector.
The Nordic Baltic Business Forum is the largest annual event of the Nordic Chambers in Latvia, which aims at promoting knowledge and experience sharing and facilitating professional networking among executives of Nordic-Baltic companies. This year's forum, which takes place in the Baltic centennial year, will be opened by the President of Latvia Raimonds Vējonis and the Ambassador of Sweden Annika Jagander who will speak on behalf of Nordic Ambassadors in Latvia.
At the Forum, the newly elected Chairperson of the Foreign Investors Council in Latvia and Country Manager of Fortum Latvia Julia Sundberg will speak on how to increase Latvia´s competitiveness for Nordic investments. Uldis Rutkaste, Head of Monetary Policy Department of Latvijas Banka, will provide an outlook on Latvia's economy and challenges ahead. Markku Mantila, Chief of the Technical and Scientific Development Branch at the NATO Strategic Communications Centre of Excellence, will share his expertise on the regional cyber and stratcom situation relevant to the business sector. Whereas, Frode Andresen, Coach and former Norwegian biathlete and cross-country skier with Olympic Gold and 15 World cup victories, will share insights from his career and what is takes to stay on top of the game. Gabor Paukovics, Market Development and Concept Manager of Kinnarps Group, will talk about the future workspace. He will be joined by Marta Kāle, Managing Director at ERDA Employer Branding, who will present the most recent findings about workspace-related challenges in Latvia. Erika Charbonnel, Director for Travel & Tourism and Consultant at Kairos Future from Stockholm, will talk about the global trends affecting tourism.
Sweden, Norway, Denmark and Finland are among the biggest investors in Latvia. According to the Bank of Latvia, last year these four countries invested in Latvia more than 3,9 billion EUR, providing a significant contribution to Latvia's development and growth. In 2017, the Nordic Baltic region contributed almost 38% of Latvia's international trade and 43% of foreign direct investments in Latvia. The Forum is organized by the Swedish, Norwegian,Finnish and Danish Chambers of Commerce with the financial support of Nordic embassies, and private enterprises, such as PINUS, Business Garden Riga, and Radisson Blu Daugava Hotel.
WELCOME!