SIGN UP FOR SPRING 2022 SCCL MEMBERS' GATHERING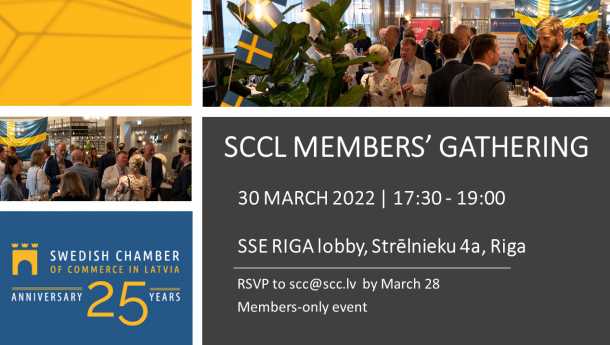 With the arrival of spring, we are ready to add colors to our daily routine, catch up on what's been important and is still actual within the Swedish - Latvian business community, and look forward with the hope of seeing the peace returning to Europe.
The SCCL Board welcomes all members to our first Spring 2022 Members' Gathering - an informal social gathering that will introduce our latest new members and serve as a networking platform for meeting & greeting the SCCL Board, SCCL Member representatives & bring some updates on various business-related issues.
Date & Time: Wednesday, 30 March from 17:30-19:30
Venue: SSE Riga lobby, Strēlnieku iela 4a, Riga
Admission: Free for SCCL Members | 25 EUR non-members
Set-up: casual meeting with snacks & refreshments
RSVP: required in writing to scc@scc.lv, latest by 28 March (state your name, position and company).
---
*By signing up for this event you give your consent for including your contact details in SCCL database and for taking and publishing photos of the event, including participants, on SCCL website, social media and printed materials. Please notify the SCCL office, if you do not want to be photographed.