Swedish Business Awards 2017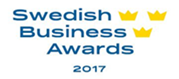 Annual Swedish Business Awards will take place in Riga, Latvia on the 2nd of November, 2017.
The Embassy of Sweden and Business Sweden - the Swedish Trade & Invest Council are organizing the Swedish Business Awards for the 9th consecutive year to highlight the success of Swedish-Latvian cooperation and to provide positive examples of outstanding entrepreneurship and business achievements. The event serves as a platform for discussions and a source of inspiration for new ideas and business development.
You are cordially invited to nominate the most successful and notable companies, organizations and entrepreneurs for the Swedish Business Awards 2017 in Latvia in any of the three following categories:
• "Sustainable Growth Award"
• "Young Entrepreneur of the Year"
• "Technological Innovation of the Year"
The event is supported by Telia Latvija, AJ Produkti, Latvian Investment and Development Agency and the Swedish Chamber of Commerce in Latvia.
You can nominate your own company, suggest a partner or any other entity active in Latvia that you believe is worth being nominated. Please submit your applications to lettland@business-sweden.se by September 27th, 2017.
Please find enclosed application forms. More information about the Swedish Business Awards ceremony and conference can be found at http://www.swedishbusinessawards.com/
Yours sincerely,
Annika Jagander
Ambassador of Sweden to Latvia
Ansis Murnieks
Manager Latvia, Business Sweden
Questions regarding the Awards and the event should be addressed to Ms Arta Munkena at Business Sweden.
Tel.: +371 67828046, e-mail: Lettland@business-sweden.se