The 9th annual Shadow Economy Conference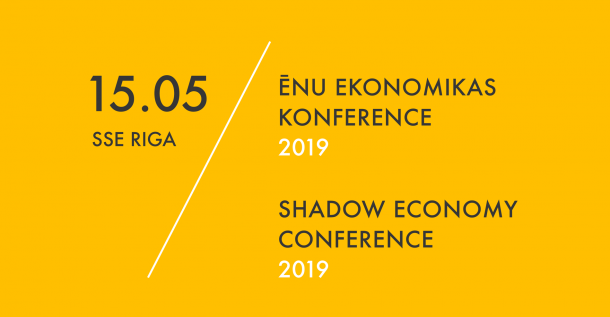 9. ikgadējā Ēnu ekonomikas konference
Ikgadējā Ēnu ekonomikas konference, kas veltīta ēnu ekonomikas mazināšanai Latvijā, notiks 15.maijā SSE Riga telpās, Strēlnieku 4a.

Programma 9:00 - 14:00, moderēs Jānis Domburs
Prezentācija "SSE Riga Ēnu ekonomikas indeksa Baltijas valstīs 2009-2018", Dr. Arnis Sauka, pētījuma autors, SSE Riga Ilgtspējīga biznesa centra direktors
Paneļdiskusijas ar politiķu un ekspertu piedalīšanos:
Vai Latvijas politika, normatīvie akti un plāni kavē novērst un mazināt ēnu ekonomiku
Valsts, uzņēmēji un noziedznieki: kurš ko dara vai nedara ēnu ekonomikas apakarošanā?

Konference notiks latviešu valodā un tiks nodrošināts sinhronais tulkojums uz angļu valodu. Dalība konferencē ir bez maksas, bet iepriekšēja reģistrācija obligāta, jo vietu skaits ir ierobežots.

The 9th annual Shadow Economy Conference

The annual Shadow Economy Conference dedicated to reducing the shadow economy in Latvia will take place on May 15th at SSE Riga, Strēlnieku 4a.
Agenda 9:00 - 14:00, moderated by Jānis Domburs
Presentation of the study "Shadow Economy Index for the Baltic Countries 2009-2018", Dr. Arnis Sauka, author of the study, Director of the Centre for Sustainable Business at SSE Riga
Panel Discussions with the participation of politicians and experts:
Do Latvian politics, legislation and plans promote prevention and reduction of shadow economy?
State, Entrepreneurs, and Criminals: Who does what to affect shadow economy?

The conference will be held in Latvian and simultaneous translation to English will be provided. Participation is free, but registration is required due to limited capacity.