The Female Focus networking series was started in 2014 by the SCCL and the NCCL, and with the support of the Swedish and Norwegian Embassies in Latvia. Female Focus is inspired by Scandinavian values and introduces speakers with different professional backgrounds inspiring both head & heart sharing their experience on relevant topics such as leadership, entrepreneurship, meeting professional and private challenges, and work & life balance.
---
Date: Tuesday, 15 November 2022 between 12:00 and 14:00
Location: Grand Palace Hotel
Type of event: IN- PERSON | LUNCH
Admission: 35 EUR for SCCL & NCCL members, 45 EUR for others
Registration: Please register to the Swedish Chamber at scc@scc.lv by the latest November 11 , 17:00 (stating your name, company you represent, billing requisites for the participation fee invoice).
All registrations are financially binding after November 11.
Female Focus in November will feature: Kristīne Anna Čakste, Entrepreneur, Lawyer, and the great-granddaughter of the 1st President of Latvia Janis Čakste, and the Norwegian Ambassador to Latvia, H.E. Ine Måreng
---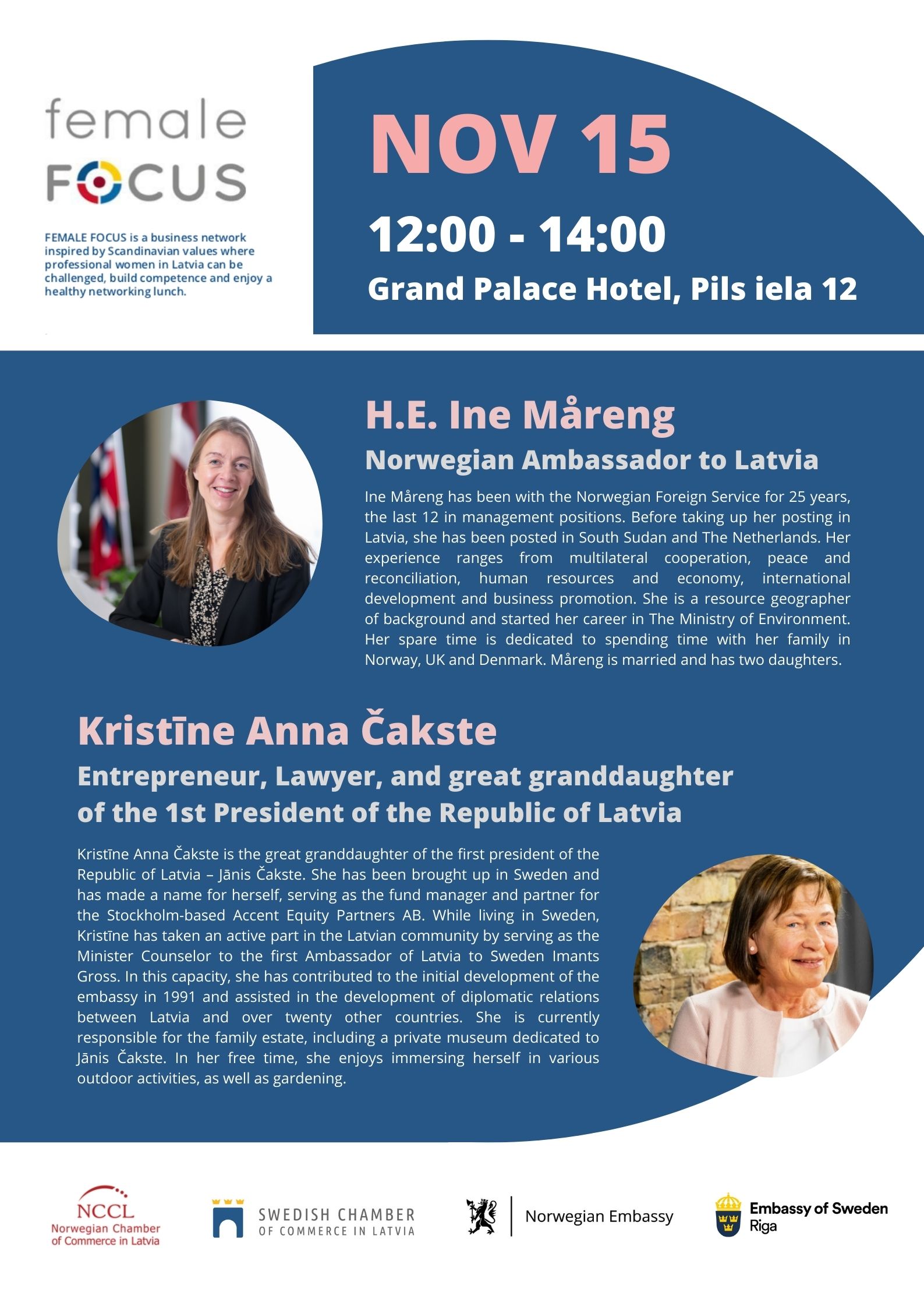 H.E. Ine Måreng has been with the Norwegian Foreign Service for 25 years, the last 12 in management positions. Before taking up her posting in Latvia, she has been posted in South Sudan and The Netherlands. Her experience ranges from multilateral cooperation, peace and reconciliation, human resources and economy, international development and business promotion. She is a resource geographer of background and started her career in The Ministry of Environment. Her spare time is dedicated to spending time with her family in Norway, UK and Denmark. Måreng is married with two daughters.
Kristīne Anna Čakste is the great granddaughter of the first president of the Republic of Latvia - Jānis Čakste. She has been brought up in Sweden and has made a name for herself, serving as the fund manager and partner for the Stockholm-based Accent Equity Partners AB. While living in Sweden, Kristīne has taken an active part in the Latvian community by serving as the Minister Counselor to the first Ambassador of Latvia to Sweden Imants Gross. In this capacity, she has contributed to the initial development of the embassy in 1991 and assisted in the development of diplomatic relations between Latvia and over twenty other countries. She is currently responsible for the family estate, including a private museum dedicated to Jānis Čakste. In her free time, she enjoys immersing herself in various outdoor activities, as well as gardening.