Global Mobility | INDUSTRY TRENDS & INNOVATIONS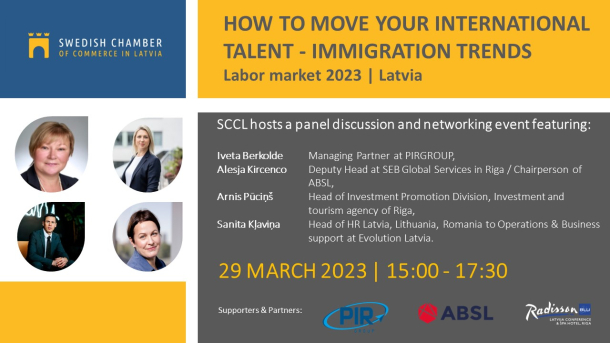 How to move your international talent - Immigration trends
Labor market 2023 | Latvia
---

In order to support its members the SCCL regularly organizes various events and discussions about current Labor market issues and challenges.

Attracting professional talents (employees) has become more challenging than ever before.
International professionals are one of the solutions for improving the situation with labor force in Latvia.
 
---
On Wednesday, 29 March 2023 from 15:00-17:30, at RADISSON BLU LATVIJA CONFERENCE & SPA HOTEL you are welcome to join us for a panel discussion and networking event on the topic "How to move your international talent - challenges and opportunities for companies".
The aim of the event is to support the enterprises by sharing expert knowledge of the process of Immigration, relocation, and inclusive onboarding of the international talent.
The panel discussion and presentation will feature the following keynote speakers and will provide you with indepth insights on the following topics:
Keynote speakers:
Iveta Berkolde - Managing Partner at PIRGROUP
Actual Immigration situation in Latvia
Tips and tricks for successful Relocation
Challenges and solutions in process of Relocation
Alesja Kircenco - Deputy Head at SEB Global Services in Riga / Chairperson of ABSL
Experience and Success stories of onboarding and support for international employees
Inclusive work culture
Examples of successful immigration cases
Arnis Pūciņš, Head of Investment Promotion Division, Investment and tourism agency of Riga
Activities and plans to attract and support international talents
Portal Work in Riga
International school
Affordable housing
Other
Panel discussion & a company case : Sanita Klavina, Evolution Latvia
Q & A
---
Date & Time: Wednesday, 29 March 2023, 15:00-17:30
Place: Radisson Blu Latvija Conference & Spa Hotel, conference room "27", Elizabetes iela 55, Riga
Attendance: Free for SCCL & ABSL Members | Non-Member fee is 35 EUR
RSVP: by email to the Swedish Chamber office scc@scc.lv latest by MON, 27 MAR 9.00 (Please state your name & company).
Refreshments & snacks served during the networking time
---
The event is supported by: PIRGROUP | ABSL | Radisson Blu Latvija Conference & Spa Hotel