MACRO MORNING TALK | online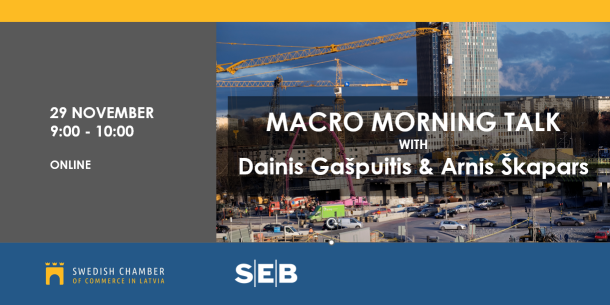 SAVE THE DATE for a new format MORNING TALK taking place online for 1 hour from 9.00-10.00 . On 29 November the theme will be dedicated to MACRO latest updates and will feature distinguished speakers from SEB Latvia : Arnis Škapars, Head of Retail banking and Dainis Gašpuitis, Economist.
---
Date: Wednesday, NOV 29, 2023 between 9.00 and 10:00
Type of event: ONLINE
Admission: Complimentary for SCCL members | Non-member fee is 30 EUR
RSVP by email to the Swedish Chamber office scc@scc.lv latest by NOV 27, 17:00. (please state your name, company).
The access information will be e-mailed to all registered participants a day before the event.
---
The slowdown is continuing but looks different in different countries. The United States will see a soft landing after showing surprising resilience. The euro area economy is still fragile, while the outlook for China has stabilized. Due to weak demand and high-interest rates, growth will remain anemic. Geopolitical turmoil poses downside risks, but lower inflation, high employment, and rising real wages provide hope. Key interest rates have peaked, and the Fed will begin its rate-cutting cycle by mid-2024.
The export-dependent Baltic economies have been hit hard by weak growth in the Nordic countries and Germany. After a decrease this year GDP growth will rebound in 2024.
---