Macroeconomics: Challenges for 2024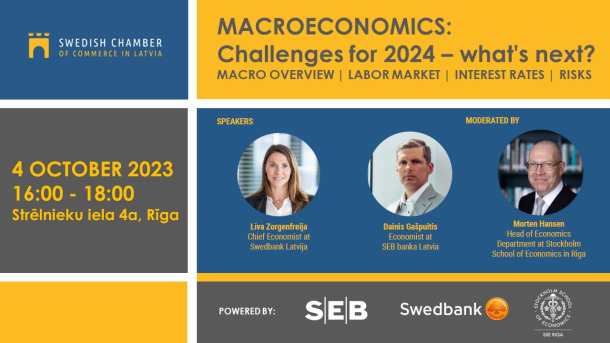 WELCOME TO JOIN THE SCCL ORGANIZED ECONOMIC OUTLOOK - FALL 2023.
DATE & TIME : Wednesday, 4 October 2023, 16:00-18:00
VENUE: SSE Riga, Strelnieku iela 4a, room TBC
RSVP by email to the Swedish Chamber office scc@scc.lv latest by OCT 2, 17:00. (please state your name, company).
ADMISSION: SCCL Members – free of charge | Non-member & Guest fee is EUR 30 p/p
The Event is followed by networking, refreshments & snacks.
The event is organized in partnership with our members: SEB Latvija, Swedbank Latvia and Stockholm School of Economics in Riga.