NBBF 2023 | "Strengthening Resilience & Bolstering Crisis Preparedness in the Nordic-Baltic Region"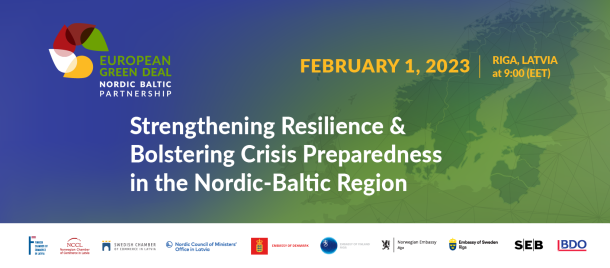 HIGHLIGHTS OF THE NBBF 2023 ARE HERE
---
We welcome you to join us on Wednesday, February 1, 2023, at the Nordic Baltic Business Forum 2023 with the main topic "Strengthening Resilience & Bolstering Crisis Preparedness in the Nordic-Baltic Region", which has gained a whole new meaning and significance since Russia launched its war in Ukraine, creating the biggest geopolitical turbulence in Europe since the World War II.
The forum, which will include several keynote speeches, two-panel discussions, and networking possibilities, is organised by the Swedish, Norwegian, and Finnish Chamber of Commerce in Latvia in close cooperation with the Nordic Council of Ministers' Office and the Swedish, Norwegian, Finnish and Danish Embassies. Big thanks to our corporate sponsors – SEB Bank Latvia and BDO for supporting this important event.
The forum will bring together the key decision makers and private sector representatives, engaged in regional defense and crisis preparedness planning, along with Nordic investors & local business representatives that are interested in strengthening resilience, crisis preparedness, and the Nordic - Baltic cooperation.
Some of the main topics addressed during the event are:
What is the current state of affairs in the area of defence, security cooperation, and civil preparedness in the Nordic and Baltic region?
What impact Russia's war in Ukraine has had on the Nordic and Baltic economies and their financial outlook?
What are the emerging opportunities in civil-military cooperation?And how to strengthen resilience and crisis preparedness in the Nordic - Baltic region?
A more detailed program is enclosed! For more info go to: www.nbbf.lv!
The event is open to both members and non-members. Participation fee is 50 EUR for members of the Nordic Chambers of Commerce in Latvia, 75 EUR for others (to cover organisational costs). To register, click here!
If you are interested in sponsorship opportunities or showcasing any of your products and services at the event, please contact the Swedish Chamber at scc@scc.lv .
Date: February 1, 2023, starting from 9:00
Location: Radisson Blu Daugava Hotel Riga, Kugu street 24, Riga
For more info & program visit: www.nbbf.lv
The event is organized in the Nordic - Baltic Business forum format, which was launched back in 2014 and has drawn attention to topics highly relevant to the Nordic – Baltic business community.
---