Nordic Circular Summit 2022 | Stockholm 22-24 November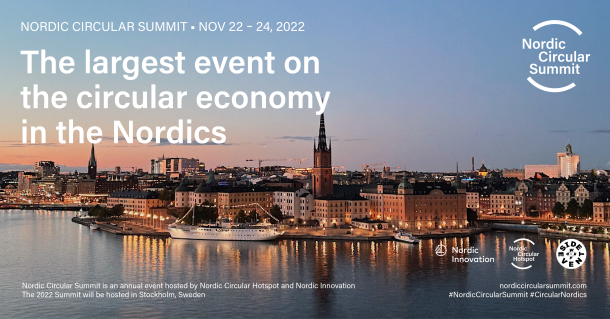 The Nordic Circular Summit is the biggest conference on circular economy in the Nordics. This year, the third annual Summit will again invite an international audience to three circularity-packed days exploring the tremendous circular opportunities of the Nordic region.
In 2022, the conference is hosted from Stockholm on 22-24 November in a hybrid format with online and onsite participation that is free and open to all. The Nordic Circular Summit is co-hosted by Nordic Circular Hotspot and Nordic Innovation and it is an official World Circular Economy Forum Side Event.
With a population of over 27 million, the Nordic region is the 12th-largest economy in the world. This comes with tremendous circular opportunities. The Nordic Circular Hotspot envisions a Nordic region that is vibrant, prosperous, and regenerative—and a role model for others in the world to follow.
The Nordic Circular Summit offers insights, discussions, news, and forecasts on topics such as circular cities and construction, circular ocean solutions, circular fashion and furniture, business and finance, food, energy, manufacturing, and much more.
Please view the Summit program HERE .
The Summit's cutting-edge broadcasting platform is set up for knowledge sharing, exhibitions and dialogue, giving the audience an opportunity to interact with speakers and participants throughout the event. Together, we will break down barriers and initiate new projects and collaborations with a mission to accelerate the transition to a circular economy in the Nordics.
For on-site or online participation, please register HERE.
LIVE broadcast will be available HERE.
Summit website: https://www.nordiccircularsummit.com