SCCL CHRISTMAS CELEBRATION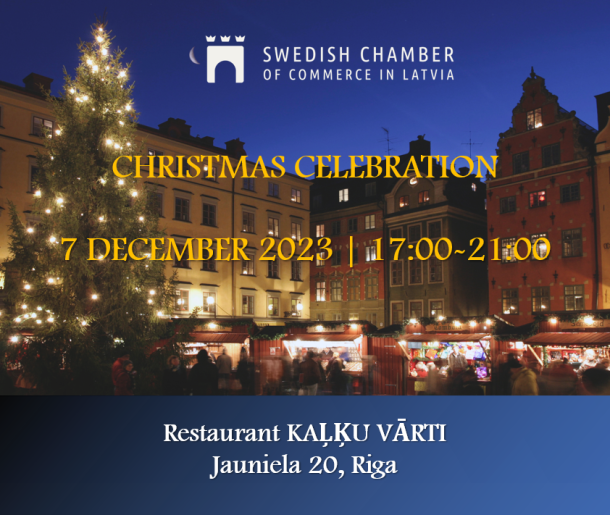 Dear SCCL Members & Guests,
You are sincerely invited to capture the mood and spirit of Christmas at the Chamber's Christmas Celebration taking place on Thursday, 7 December from 17:00 until 21:00 at the restaurant Kaļķu Vārti situated in the heart of Riga Old Town, Jauniela 20.
Welcome to enjoy a wonderful musical performance, a delicious dinner buffet & drinks featuring a mix of Latvian and Swedish tastes, take part in the Christmas Charity Raffle, and be a part of a Member recognition & award ceremony as well as spend a great time with friends and colleagues of the SCCL community.
DATE & TIME: Thursday, 7 December 2023, 17:00-21:00
VENUE: restaurant Kaļķu Vārti, Jauniela 20, Riga
RSVP by email to the Swedish Chamber office scc@scc.lv latest by December 4, 10:00 (please state your name & company for the billing purposes).
ADMISSION: SCCL Members EUR 60 p/p | Non-member & Guest fee is EUR 85 p/p
All registrations are financially binding after December 4, 17.00.
* Please note that seats are limited and participants will be registered on a first-come, first-serve basis.
Along with our long-held tradition of honoring the spirit of giving and sharing, we will hold the SCCL Charity Raffle in order to support social projects for vulnerable children & youth. This year all proceeds from this raffle will be donated to our member : MENTOR Latvia .

Mentor Latvia is an NGO that works with youth from social risk groups who lack family support. It provides individual mentoring program for teenagers from alternative care – youth homes, orphanages, and foster families. Since 2010 Mentor Latvia has provided support for more than 500 young people on their transition into adulthood. www.mentor.lv 

---
With the help of our traditional Charity Raffle, we will be able to support those in need!
Charity Raffle's 1 ticket price = 10 EUR

Thank you to our partners & gift donors: Rimi Baltic Group | Hotel Jurmala Spa | Hilton Garden Inn Riga Old Town | Radisson Blu Latvija Conference & SPA Hotel, Riga | Radisson Hotel Group | AJ Produkti