Swedish Chambers International | The Changing Global Business Landscape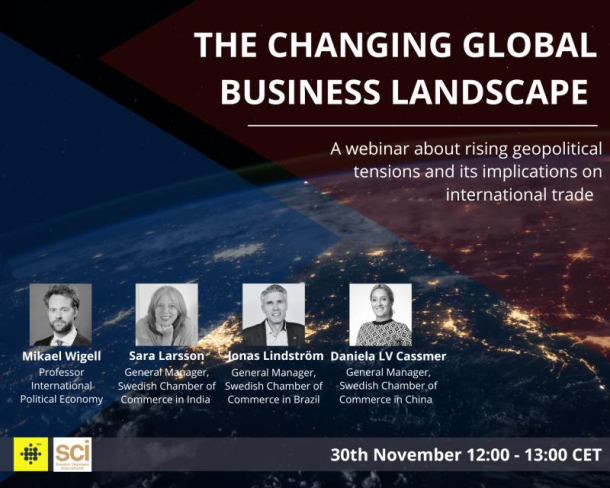 On Thursday November 30 from 12.00-13.00 CET / 13:00-14:00 Riga time/, the 

 

Swedish Chambers International

 (SCI) will be hosting a

 

WEBINAR that bridges geopolitics and international trade, with insights from Brazil, China and India.

 




The world is changing at a rapid pace. Balances are shifting, and equilibriums are drifting. This unique webinar combines geopolitics and business, to investigate how Swedish actors in international trade are navigating this new global business landscape, with business insights from Brazil, China, and India. How do these new political tensions affect international trade?
The dynamics of international trade are profoundly influenced by changing geopolitical landscapes. Protectionism, friendshoring, and securitization are terminologies that have been used diligently by experts and politicians. But what are the actual implications on international trade? Has free trade and interdependence taken a permanent, unrecoverable, hit? Are larger companies in Sweden and the EU already re-structuring their supply chains? Has Sweden stopped trading with China? There are many questions to answer during this hour.
This unique webinar will examine the current changing world order from two different perspectives. We are honored to have Mikael Wigell, Research Director at the Finnish Institute of International Affairs and Professor in International Political Economy. His work on great-power politics and geoeconomics has been published in International Affairs, the European Commission and World Development, and he is a part of the leading World Economic Forum Expert Network. His expertise is combined with observations from three key markets in the changing business landscape: Brazil, China and India, represented by Jonas Lindström, Daniela Ling and Sara Larsson.
This webinar is offered in a collaboration between Stockholms Handelskammare and the Swedish Chambers International (SCI).
TIME: 30th November 12:00–13:00 CET/ 13:00-14:00 RIGA TIME /
LOCATION: Live on YOUTUBE (https://www.youtube.com/watch?v=nUQYh14WWN8 )


SIGN-UP takes place via Stockholm Chamber of Commerce HERE  


---
---
About the Swedish Chambers International (SCI)
The Swedish Chambers International (SCI) is the umbrella organisation for Swedish Chambers of Commerce globally. Today, it represents Swedish Chambers across a large number of key trading locations with strong Swedish business ties. The SCI works with public bodies and other organisations and stakeholders - with the joint goal to expand the bilateral trade and economic exchange, and see it as essential for prosperity and development.