Do not miss out the Stena Line Baltic Business Conference!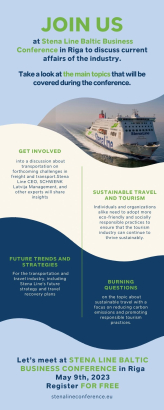 Meet with local and international industry leaders. Find out about the latest industry news. Network and build new meaningful relationships.
The Conference Agenda's focus lies on a forward-thinking discussion on sustainability in the transportation and travel industries, exploring innovative solutions and the role of industry leaders in driving progress.
READ MORE & REGISTER FOR FREE : HERE
#ConnectingEuropeForSustainableFuture