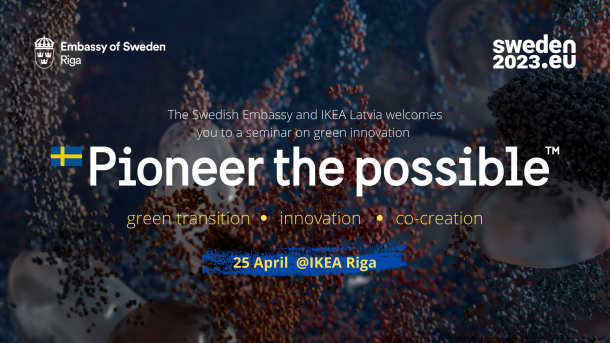 The Swedish Embassy and IKEA Latvia warmly welcomes you
to a seminar on green innovation
Pioneer the Possible
On 25 April, 2-4 PM, at IKEA Riga
Are you interested in doing business, investing, working or doing research in and with Sweden?
Join us in a discussion on climate transition and innovation and hear from leading Swedish companies
that are all part of Sweden's journey towards becoming the world's first carbon-neutral welfare nation.
The Swedish Embassy has teamed up with IKEA Latvia, Södra, Eolus vind and Bonava
to bring attention to innovative and collaborative solutions that have a positive impact on people and the planet
in Sweden, Latvia and beyond.
The green transition is happening - and you can be part of it!
Please register here
Teaser: The Journey to a Fossil Free Sweden
Find more info on the Embassy´s facebook page: Seminar on Green Innovations "Pioneer the Possible"
In relation to the seminar you can visit an exhibition about innovation and the green transition in Sweden.
The "Pioneer the Possible" exhibition features a number of ground-breaking innovations stretching the
boundaries of the possible.
Take the chance to learn more about:
⚡ Fossil free steel
???? The world's first green batteries
???? Joining Swedish tech heaven
⚖️ Work-life balance
♻️ Recycling
????️ Sweden's mission to become the first carbon neutral OECD country by 2045
???? Decarbonising heavy goods transportiand electrifying the automotiveiindustry