Meet the Member & a company visit | Cabonline Customer Service Latvia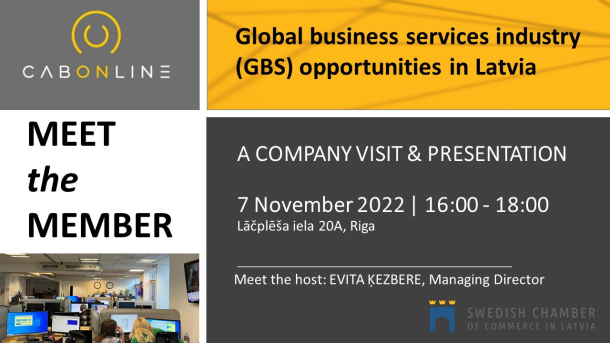 In November the SCCL is delighted to continue to bring the members into focus, introducing you to various business sectors and well-functioning businesses which have chosen Latvia as a base for their further expansion and growth.
Welcome to an Afternoon with a Member | Cabonline Customer Service Latvia and have a chance to
• visit the service center's new office,
• hear the GBS challenges and opportunities by MD Evita Kezbere,
• enjoy coffee, discussions & networking.
Date & Time: Monday, 7 November 2022, 16:00-18:00
Place: Lāčplēša iela 20A, Rīga
Attendance: Free for SCCL Members, invited guests & 25 EUR for non-members
Registration: By email to the SCCL office at scc@scc.lv stating your name & company by latest NOV 4, 17:00.
---
MEMBER BLOG
Cabonline offers flexible, world-class transportation services. With leading technology, we simplify the process for transporters, drivers, and customers by helping them find the perfect match when and where it is needed.
We target the public sector, private companies, transporters, drivers, and customers, providing educated and service-oriented drivers, administrative support, seamless technology, and efficient management. Our efficient booking services are used by hundreds of thousands of customers throughout the Nordics and provide a user experience beyond the ordinary.
Cabonline Group is one of Europe's leading technology and service provider for the taxi and transport industry. In Sweden, Finland, and Norway, around 3 500 transporters are connected with approximately 7 000 vehicles under different brands, including TaxiKurir, Sverigetaxi (former Taxi 020), TOPCAB, Taxi Skåne, NorgesTaxi, Kovanen, and FixuTaxi. Through Cabonline Group, the transporters get attractive customer agreements, industry-leading technology as well as access to large-scale advantages and infrastructure. Cabonline Group has a turnover of approximately 5.6 billion SEK and performs over 60,000 journeys every day.
Cabonline Group has its call centers located in Latvia-Riga, Daugavpils, and Liepaja. The employees are Latvian operators with a very good knowledge of the Swedish or Norwegian language. Today Cabonline Customer Service Latvia SIA has 200 employees, which receive calls from Swedish or Norwegian-speaking customers or taxi drivers. The call center handles more than 180 000 calls each month.
---