Grant Thornton Baltic | webinar on "Key Tax changes in Lithuania, Latvia and Estonia in 2022"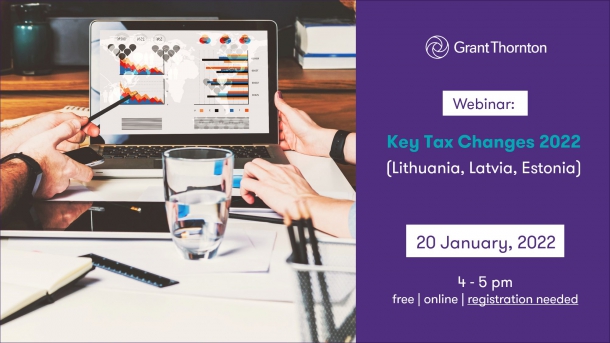 We are pleased to announce a webinar organized by our member Grant Thornton Baltic on KEY TAX CHANGES IN THE BALTICS IN 2022 to be held on 20 January from 16:00-17:00 on MsTeams.
Topics to be covered: Payroll taxes | VAT changes | Changes of Corporate income tax law | Changes in tax administration | Upcoming tax reform.
Speakers - Grant Thornton Baltic experts:
Vykintas Valiulis, Partner, Head of Tax and Advisory services (LT)
Vilma Priluckytė, Senior Tax project manager (LT)
Mārtiņš Lubgans, Tax manager (LV)
Kristjan Järve, Partner, Head of Tax services (EE)
Šarūnas Brazdžius, Head of financial and business advisory (LT)
Registration:
Please register until January 19 on the following link:
https://www.surveymonkey.com/r/RBG5D3V
to receive an e-mail with instructions and the access link to a call to the Microsoft Teams platform.
Admission: free of charge