Nordic Baltic Business Forum 2018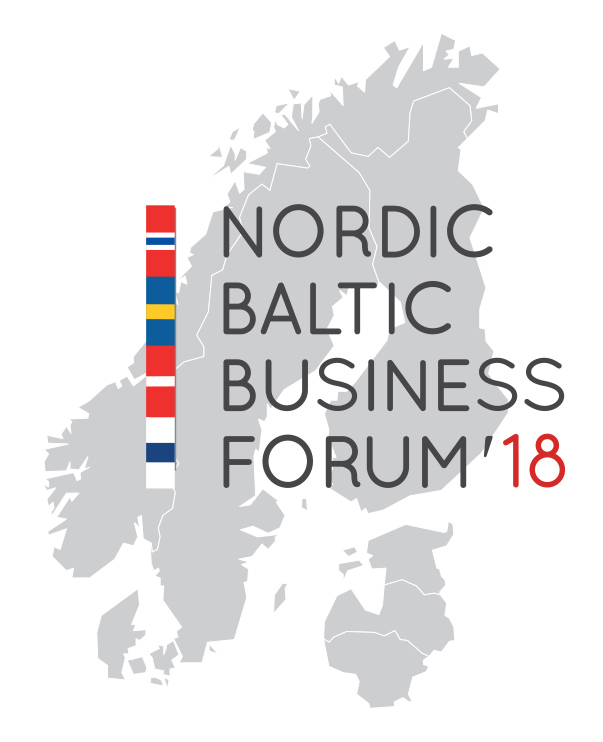 Nordic Baltic Business Forum 2018
4 October 2018 | Spīķeru koncertzāle, Riga | 13.00-19.00
The 5th Nordic Baltic Business Forum presents a vision for Nordic Baltic cooperation
On October 4, 2018, the 5th Nordic Baltic Business Forum took place in Riga, featuring multiple prominent speakers on topics of innovation, cooperation and growth. The event brought together more than 100 Nordic business managers, diplomats, local entrepreneurs, and representatives from the public and private sector.
The 5th Nordic Baltic Business Forum was opened by the President of Latvia Raimonds Vējonis and the Ambassador of Sweden Annika Jagander who spoke on behalf of Nordic Ambassadors. In his opening remarks, the President of Latvia stated that in order to strengthen the cooperation and growth of the region, the Nordic and Baltic countries should learn from one another. "We need to expand our cooperation in the fields of education, science and environment, and together we must look for ways to develop the strengths of our region, identify and create new opportunities," said Raimonds Vējonis.
Whereas, the Ambassador of Sweden Annika Jagander pointed out the untapped potential for increased cooperation. "Nordic investments in Latvia, Estonia and Lithuania are substantial, and the Nordic businesses are present in all sectors of society. However, there is still an untapped potential for further cooperation – which is why events like these are so important. Meeting in person and establishing new contacts is still crucial for making new investment decisions", said the Swedish Ambassador.
The Nordic Baltic Business Forum is the largest annual event of the Nordic Chambers in Latvia, which aims at promoting knowledge and experience sharing and facilitating professional networking among executives of Nordic-Baltic companies. The Forum was organized by the Norwegian, Swedish, Finnish and Danish Chambers of Commerce with the financial support of Norwegian, Swedish and Finnish embassies, and private enterprises, such as PINUS, Business Garden Riga, and Radisson Blu Daugava Hotel.
At the Forum, the newly elected Chairperson of the Foreign Investors Council in Latvia and Country Manager of Fortum Latvia Julia Sundberg spoke on increasing Latvia´s competitiveness for Nordic investments. Uldis Rutkaste, Head of Monetary Policy Department of Latvijas Banka, provided an outlook on Latvia's economy and challenges ahead. Markku Mantila, Chief of the Technical and Scientific Development Branch at the NATO Strategic Communications Centre of Excellence, presented the new cyber challenges that businesses should take into account when reaching out to new audiences. Gabor Paukovics, Market Development and Concept Manager of Kinnarps Group, talked about the future workspace, joined by Marta Kāle, Managing Director at ERDA Employer Branding, who presented the most recent findings about workspace-related challenges in Latvia. Erika Charbonnel, Director for Travel & Tourism and Consultant at Kairos Future from Stockholm, talked about the global trends affecting tourism, including the emergence of artificial intelligence in many sectors of human lives. The program was concluded by an insipirational talk by Frode Andresen, Coach and former Norwegian biathlete and cross-country skier with Olympic Gold and 15 World cup victories, who shared insights from his career and what is takes to stay on top of the game and presented an example of succesful cooperation between Norway and Latvia. He was joined by Latvian biathlete Andrejs Rastorgujevs and his coach Per Olav Tretterud.
Sweden, Norway, Denmark and Finland are among the biggest investors in Latvia. According to the Bank of Latvia, last year these four countries invested in Latvia more than 3,9 billion EUR, providing a significant contribution to Latvia's development and growth. In 2017, the Nordic Baltic region contributed almost 38% of Latvia's international trade and 43% of foreign direct investments in Latvia.
The Nordic Baltic Business Forum is hosted by the
Swedish,
Norwegian, Finnish and Danish Chambers of Commerce in Latvia in cooperation with the Nordic Embassies. This is our 5th annual conference bringing best business cases, inspiration on leadership and innovation as well as being a forum for exchange of experiences and networking between Nordic-Baltic companies.
---
SUPPORTERS OF THE NBBF 2018:
PINUS | BUSINESS GARDEN Rīga | Radisson Blu Daugava Hotel | the Embassies of Sweden, Norway and Finland
---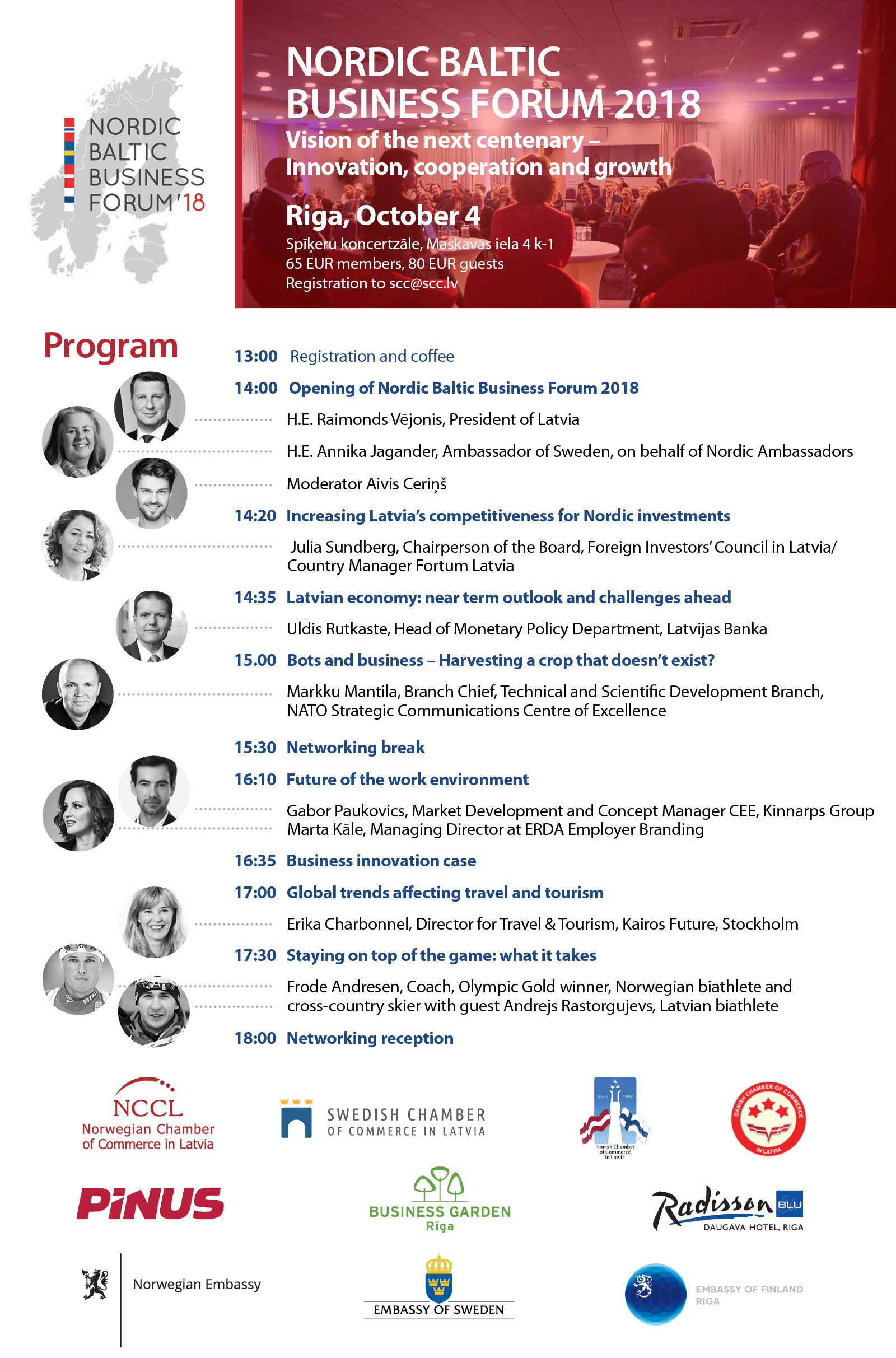 * The event will be photographed for the SCCL illustration and information purposes. Please notify the SCCL office by writing to scc@scc.lv, if you do not wish to be photographed.
---