SCCL LUCIA DAY | OUTDOORS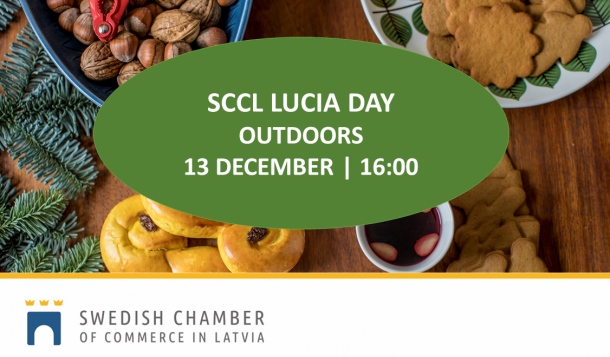 Join us in the afternoon of December 13 between 16:00-17:15 to capture the mood and spirit of Christmas and to mark the Swedish Lucia day.
Along with our long-held tradition of honoring the spirit of giving and sharing, we will hold the SCCL Lucia Charity Raffle to support the social projects for vulnerable children & families. All proceeds from this raffle will be donated to our NGO members:
Dzīvesprieks-Livslust, Salvation Army, Latvian Foster Family Association
We encourage you to become our Charity Raffle Gift Sponsor by donating corporate products to the raffle gift table. Please contact the SCCL office: scc@scc.lv or +371 67285667.
*Outdoor / Green type of event. Registration is required and outdoor seats are limited.
(The Covid-19 certificate shall be presented at the entry).
* Admission: Complimentary for SCCL members (2 representatives from a membership) / 25 EUR non-members
* Outdoor venue: The Yard of SSE Riga / RGSL, Strēlnieku iela 4a, Riga
* RSVP to scc@scc.lv by 12 December.
The event is endorsed by SSE Riga, RGSL, RIMI, Paulig, Radisson Blu Latvia Conference & Spa Hotel