Only a few hundred kilometers separate Sweden from Latvia, and it takes just about an hour to travel between our capitals. We belong to the same part of Europe, to the same climate zone and the same historical space. This has enabled the formation of a natural bond and curiosity between our countries, which serves as an excellent foundation for business development and cooperation.
Sweden remains the biggest foreign investor in Latvia, and numerous Swedish companies have established their businesses here. In return, a growing number of companies from Latvia are seeking partners and opportunities for growth in Sweden. The Swedish Chamber of Commerce in Latvia (SCCL) positions itself in the middle of these crossroads, acting as a supporter, facilitator, and networker between enterprises that are operating across the Baltic Sea. Our aim is to create a meaningful and relevant platform that would assist our members in achieving their business goals, and assist their work towards greater social responsibility and sustainability.
Our activities are geared both towards industry-specific topics of interest, as well as broader networking and trust-building. Our purpose lies in assisting you to find and connect with like-minded people who, with their experience and expertise, can guide you forward. In doing so, we position Swedish values – democracy, social justice, equality, and sustainability for our planet – at the core of all of our activities.
We work towards making our voice heard in every opportunity to advocate and improve the business and investment climate in Latvia.
Welcome to the Swedish Chamber of Commerce in Latvia!
Linda Freimane
Chairperson of the Board of the Swedish Chamber of Commerce in Latvia
Owner of B & More SIA
Latest news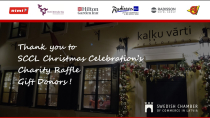 Christmas sparkles, gifts, songs, and friends are awaited at the SCCL Christmas Dinner taking place…
As the winter holidays approach, we extend our heartfelt wishes for a season filled with warmth and…
All news
Member Incentives & News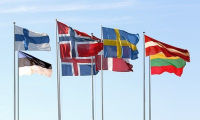 In the summer of 2023, Nordic Investment Bank opened its regional center in Riga, Latvia. NIB is an…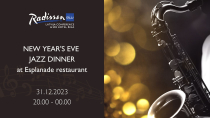 All member incentives
New corporate members
Apply for membership
See full member list